Art of Context was honored to accept the silver award for our digital signage work with Massport – Boston Logan Airport. The award was in the transportation category of the APEX Content Awards at the 2015 Digital Signage Expo held in Las Vegas in March.  The win marks back-to-back awards for Art of Context and our client Massport, Boston Logan Airport.
About the Airport Digital Signage Project
Boston Logan International Airport (BOS) digital signage has evolved to include an industry first: boarding pass scanners that direct passengers to their gates and deliver information about flight updates and concessions along the way. It has improved the passenger experience at BOS and has inspired other airports to follow suit.
Improved Wayfinding in BOS Terminal B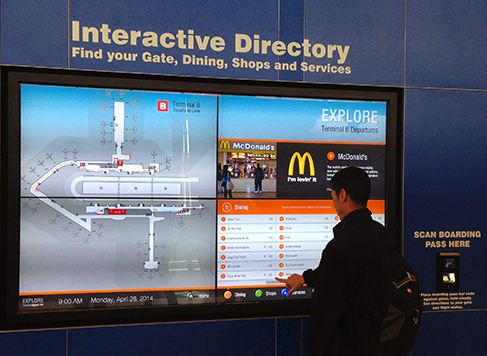 Art of Context (AOC) developed four data-driven, interactive video walls featuring boarding pass scanners for Boston Logan International Airport (BOS) in the Spring of 2014 to improve the passenger experience in its new Terminal B expansion. The expansion included seven new gates connecting two previously distinct sides of Terminal B.  The expanded terminal offers passengers access to concessions previously unreachable from their side of the terminal. The new digital signage offers personalized and accurate way finding to the entire terminal and give passengers the confidence to venture away from their gate.  The passenger scans their boarding pass and the new displays greet he or she by name and shows their gate information and flight status. Passengers are dynamically shown the route to their gate and available concessions and amenities along the route are highlighted and their walking times displayed. The interactive signage serves both short and medium "dwell" passenger information seeking scenarios.
Digital Signage Provides Passenger Information At-A-Glance or Indepth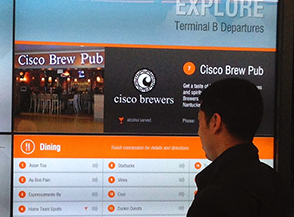 The form factor inherited for this project was a two over two video wall consisting of 46″ thin bezeled screens connected to a single player. Together with our clients from BOS, we convinced airport stakeholders to include capacitive touch overlays and boarding pass scanners into the in-progress construction plans. With the new specifications set, we set out to design a useful and yet simple passenger experience that leveraged the large form factor. We wanted to satisfy the needs of passengers eager to interact with the signage and those that just wanted quick wayfinding information at a glance–and possibly at the same time. We were cognizant that the new connected terminal would be confusing for many passengers and that digital signage would be the only directory information in this portion of the terminal–no printed directories were planned.
AOC created an approach that satisfied both the need for a traditional directory and the cutting edge experience of personalized way-finding to the passenger's gate. The to-scale and correctly orientated terminal map (designed in a previous project) is clearly displayed at all times and includes the import basics such as restrooms, gates and a "you are here" beacon.  The interactive portion allows the passenger to select dining or shopping options that are overlayed on the map. Alternatively, the passenger can simply scan their boarding pass and be shown a dynamic route to their gate on the terminal map as well as their latest flight information, destination weather and concessions near their gate including walking times. When the system is not in use, concession details are rotated up top and different "call to actions" in large text are visible from a distance, like "Hungry? Touch here to find dining nearby"
A Solution That Makes Passengers and Concessionaires Happy
We have gathered encouraging results from both hard analytics and unsolicited positive passenger feedback. Logan passengers have been expressing their approval on social media, a sample of tweets include "@BostonLogan great #digital #interactive experience. Making it relevant to me." and "So nice: interactive screens to find dining, lots of outlets, and fancy gates! @BostonLogan terminal B". Given the passenger volume surrounding the area where these interactive directories are installed, we have estimated that they are used by 15% of passengers, which is extremely high usage. Their usage is much higher than the smaller directories BOS has in different terminals. We have found that the large form factor gets noticed and the intimidation factor is lessened since passengers can see how easy it is to use from a distance. Concessions across the terminal are busier than ever as customers use the signage as a tool to get comfortable and explore.