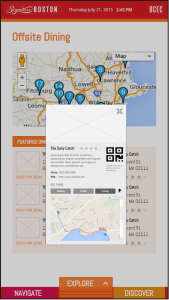 The Massachusetts Convention Center Authority reached out to AOC to develop an over-arching content strategy for The Authority that would eliminate content silos and facilitate multi-channel content delivery.
AOC is an advocate of user-centered design and worked closely with The Authority and its customers to research and understand the current user experience. Through iterative prototypes, we have demonstrated how the user experience can be improved with technology.
MCCA staff are thrilled with the outcome and will be using the content strategies we created to develop future channels. The new strategy will surely be the keystone to consolidated and more efficient customer and visitor touch points.  Art of Context is excited continue our successful relationship with The Massachusetts Convention Center Authority.